Details

Hits: 890
Dallas Family Lawyer - Bankruptcy & Mediation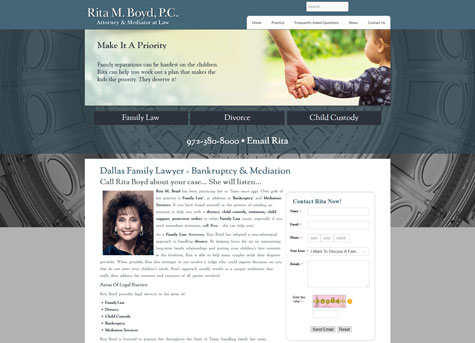 iComEx has launched the new redesigned Rita Boyd Attorney & Mediator at Law website. It looks great Rita and we are so excited to see the website deliver all the services you have available to provide for the Dallas Ft. Worth community. For those new clients, Call Rita Boyd about your case . . . She will listen.
Rita M. Boyd has been practicing law in Texas since 1992. Over 90% of her practice is Family Law*, in addition to Bankruptcy* and Mediation Services. If you have found yourself in the postion of needing an attorney to help you with a divorce, child custody, visitation, child support, protective orders or other Family Law issues, especially if you need immediate attention, call Rita - she can help you!
As a Family Law Attorney, Rita Boyd has adopted a non-adversarial approach to handling divorce. By keeping focus the on on maintaining long-term family relationships and putting your children's best interests at the forefront, Rita is able to help many couples settle their disputes privately. When possible, Rita also attempts to not involve a judge who could impose decisions on you that do not meet your children's needs. Rita's approach usually results in a unique settlement that really does address the interests and concerns of all parties involved.
Areas Of Legal Practice
Rita Boyd provides legal services in the areas of:
Family Law
Divorce
Child Custody
Bankruptcy
Mediation Services
Rita Boyd is licensed to practice law throughout the State of Texas, handling family law cases, bankruptcies and mediations mostly within the great Dallas / Fort Worth metroplex and the surrounding areas in Dallas, Collin, Denton, Rockwall, Kaufman and Ellis counties. Conveniently located on Keller Springs Road, just west of the North Dallas Tollway, Rita's office is a comfortable place to discuss situation. Contact us online or call 972-380-8000 to schedule a consultation.
Details

Hits: 898

Welcome F & I Pawn Shop to the iComEx Family. We are very excited that you have selected us for your website needs. We look forward to a wonderful business relationship.
F&I Pawn Shop is a locally owned and operated shop in Sherman and Denison Texas. The two shops operate on collateral loans up to 10,000 dollars. Loans are written for 30-days and then allowed 30 days of grace. We take anything of value!
The store is licensed and regulated by The State of Texas Office of Consumer Credit Commissioner. All interest rates are closely regulated by the state and all of our pawn brokers have been licensed by the state.
We are a local Gold and Silver Exchange. We buy and sale gold, silver coins, gold or silver bullion, watches and Antique Jewelry!
The legacy of loaning money for collateral has been passed down from generation to generation. John Sofey, Innette Marr's grandfather came to America from EL Mira, Syria around 1900. He pursued many interests to support his family. John became a lender instead of a borrower, lending money anything from a dime to five dollars. He always kept collateral for these loans, sometimes holding the borrowers shoes. During his life, John helped other Syrian-Lebanese immigrants by lending money to begin business. Innette's grandfather was an example of millions of successful immigrants that came to America.
Details

Hits: 1116
Three Locations To Serve You Better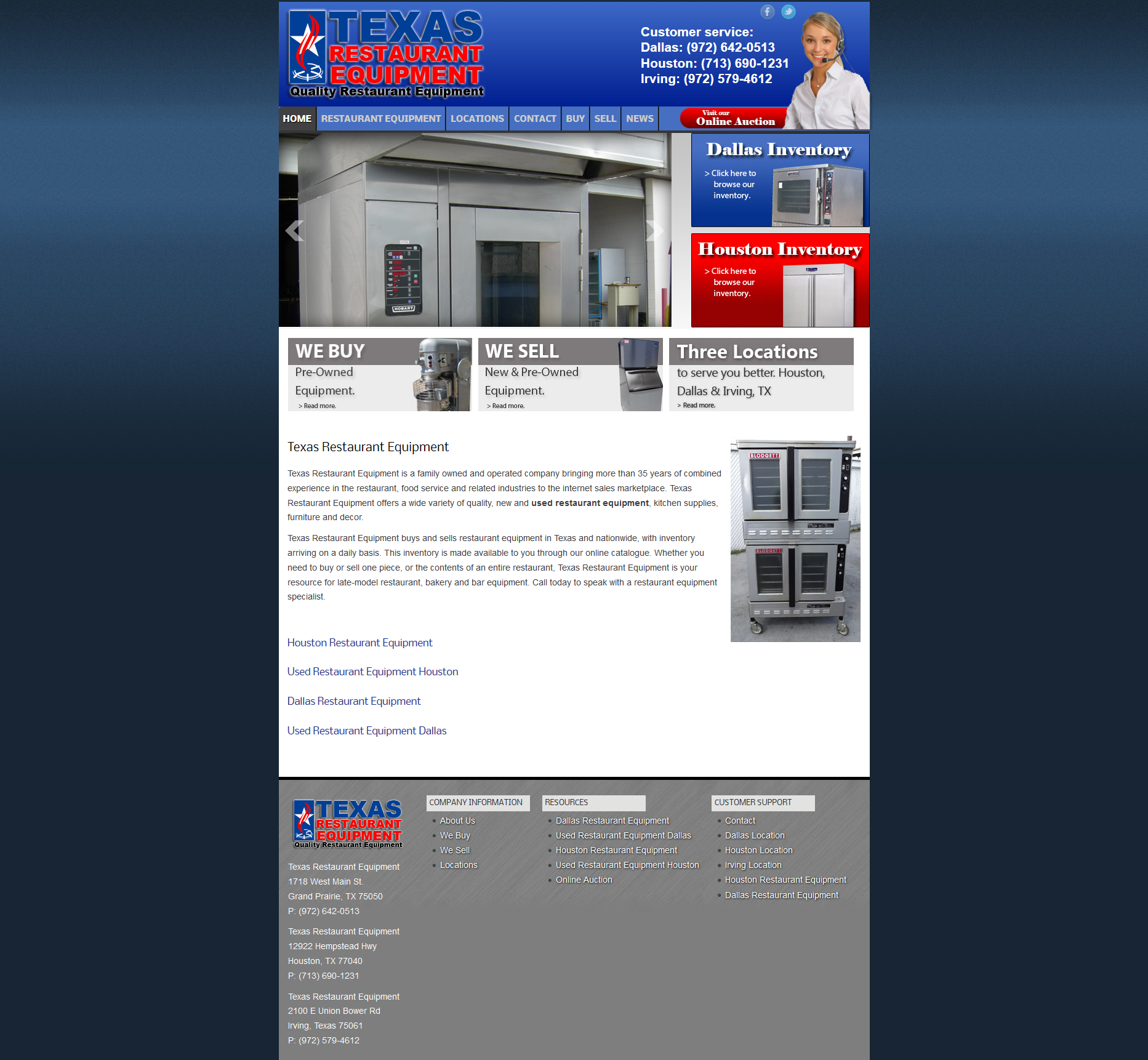 iComEx is proud to launch the new Texas Resbaurant Equipment Website. Texas Restaurant Equipment is a leading auctioneer of New and Used Restaurant Equipment in the Foodservice Industry. With 3 locations to serve the restaurant industry with commercial kitchen equipment, please visit the showrooms in Dallas, Houston and Irving. We look forward to working with you in the coming years.
Texas Restaurant Equipment is a family owned and operated company bringing more than 35 years of combined experience in the restaurant, food service and related industries to the internet sales marketplace. Texas Restaurant Equipment offers a wide variety of quality, new and used restaurant equipment, kitchen supplies, furniture and decor.
Texas Restaurant Equipment buys and sells restaurant equipment in Texas and nationwide, with inventory arriving on a daily basis. This inventory is made available to you through our online catalogue. Whether you need to buy or sell one piece, or the contents of an entire restaurant, Texas Restaurant Equipment is your resource for late-model restaurant, bakery and bar equipment. Call today to speak with a restaurant equipment specialist.
Houston Restaurant Equipment
Used Restaurant Equipment Houston
Dallas Restaurant Equipment
Used Restaurant Equipment Dallas
Details

Hits: 916
Welcome To The New Brainstyles Website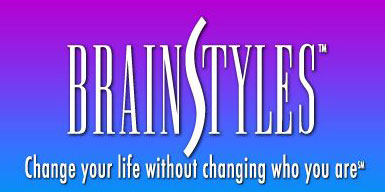 Welcome to The New Brainstyles website. Marlene Miller, Author, Developer and Researcher of The BrainStyles System®, Founder of the international Licensing organization, BrainStyles, Inc. says"I invite you to explore our web site. Learn how BrainStyles was born in a business setting instead of a classroom. Explore how you can get behind behaviors and appearances to the gifts beneath. No more tricks or communication techniques, just you being you at your best, using your natural brainstyle."
"To improve yourself, be more yourself. To create a long-lasting partnership, stop trying to change yourself or your partner.
Go beyond personality types and self-help books. Redefine yourself from within. Start by learning about and then applying your natural, hardwired brainstyle™ to grow as a leader, build teams naturally without long lists of behavioral descriptions, while you reduce stress and conflict.
"Your job in life is not to learn how to be different [or better], it is to spend more time realizing, and living from the best that's already within. The difference between people who "realize their potential" and those who don't is not the amount of potential, but the amount of permission they give themselves to use it."
We welcome all of you in the Brainstyles company to the iComEx family and look forward to working with each one of you in the years to come. Thank you for choosing iComEx as your website developer! It's a wonderful vote of confidence for us.
Details

Hits: 890
Action Plumbing Heating Air Conditioning & Electrical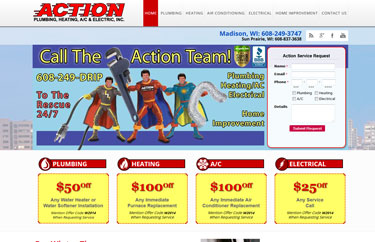 is pleased to announce their brand new website. Loaded with features for your convenience, we are now mobile friendly, have employment applications online, and easy to complete work orders for service. Coupons are up front and personal, and take a new look at our latest turn key remodeling under the Home Improvement button. We are here to serve you in the Madison greater community and we look forward to speaking with you soon. Here is a little about the Action Team!
About Us
Action Plumbing, Heating, Air Conditioning and Electric, Inc. has been in the Madison Area since 1989. The business was founded by husband and wife team Curt and Leslie Johnson. Curt and Leslie believe that when people have plumbing, heating, cooling or electrical repairs they want those repairs done quickly, at a fair price and professionally by a company they can trust. We stand behind our work with a two year warranty on labor and materials for all fixtures which we provide and install. We also have an A+ rating with the BBB and have received awards for our service from Angie's list members and readers of the Star.
Mission Statement:
Action Plumbing, Heating, Air Conditioning and Electric's purpose is to add real value to the lives of our customers! We as employees of Action Plumbing and Air are willing to do whatever it takes to make our customer's lives easier, solve their problems, meet their needs and answer their questions.
Action Plumbing Heating Air Conditioning and Electrical is here to help, simply ask us about new turnkey Kitchen & Bathroom Remodeling Division!
Madison, WI: 608-249-DRIP (3747), Sun Prairie, WI: 608-837-3638, when you need an expert for all your plumbing needs... Call us today and get started on making changes in your home! Your Favorite Madison Plumber!
iComEx has provided the means for Action to bring out the best services they have to offer for their clients in the Greater Madison Communities and cities. Find out more by clicking the link on the name above. Thank you for your support and belief in iComEx to present your company to the Wisconsin clients you have served for over 20 years. Keep up the good work!