Details

Hits: 885
Check out additional Fusion Home projects on Houzz.com!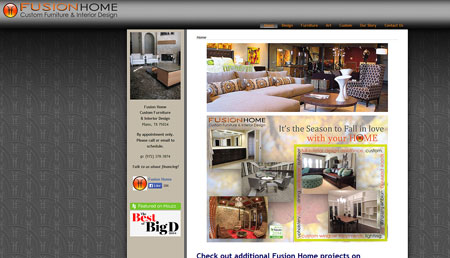 Houzz is a great resource for finding inspiration for upcoming projects or just perusing great design! Narrow your search by style, room and metro area and save your favorite images to an idea book that you can share with us so we can help you design the ideal space!
Our website has been revamped and updated! Check out the NEW "Design" tab to see a small fraction of what we have been up to for the last five years and see what we can do for you. Indoor/Outdoor, Bathroom/Kitchen, Lighting, Rugs, Draperies…With endless resources, unmatched customer service and expertise in all things "design", the possibilities are limitless.
Did you know?.....The following pages are an extremely small sample of what we do. We have resources with hundreds of vendors which allow us to be versatile and offer various styles and price points. Full interior design services are a huge part of what we do and we can assist at any point of the process. Whether it be a new build, remodel, 1 room or 1 piece. If you are looking for something unique chances are we can find it and if not, we can make it! Some of our vendors include Calligaris, GUS Modern, Incanto, American Leather, Environment, Lazar and hundreds more. Not to mention 100% Local Art!
Visualizing a space and seeing a design plan come full circle is one of the most difficult hurdles for people overcome. The design shows do fancy 3D renderings and mock ups to show clients exactly how their space will look, "Why can't I do that?" You can! Click on the Design tab to learn more about how Fusion can eliminate the guesswork."
iComEx just launched the latest version of Fusion Home Fashion. Noteworthy national clients since 2012, their designs are featured on Houzz, HG TV, and are 2014 winners of the Best of Bid D designers just to mention a few of their accolades...So proud of you all!
Details

Hits: 911
Spin Nock

TM
Faster • Quieter • Deadly Accurate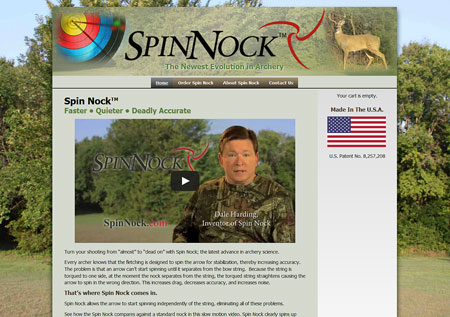 Turn your shooting from "almost" to "dead on" with Spin Nock; the latest advance in archery science.
Every archer knows that the fletching is designed to spin the arrow for stabilization, thereby increasing accuracy. The problem is that an arrow can't start spinning until it separates from the bow string. Because the string is torqued to one side, at the moment the nock separates from the string, the torqued string straightens causing the arrow to spin in the wrong direction. This increases drag, decreases accuracy, and increases noise.
That's where Spin Nock comes in.
Spin Nock allows the arrow to start spinning independently of the string, eliminating all of these problems.
See how the Spin Nock compares against a standard nock in this slow motion video. Spin Nock clearly spins up faster, without any reverse spinning common to a standard nock. The standard nock doesn't start spinning until half way to the target. In the same time, the Spin Nock has already stabilized and thereby increased the arrows accuracy.
Spin Nock fits all standard and small diameter arrows and weighs the same as a standard nock. With just one try, you'll notice a dramatic difference. You'll soon be shooting at greater distances with far more accuracy, with less noise.If you are not completely satisfied, return it for a complete refund. Spin Nock will do for arrows what rifling did for bullets.Spin Nock will be available soon! Please check back with us.
Welcome Spin Nock to the iComEx family! For all sports enthusiasts alike, we look forward to working with Dale and his staff in the coming years!
Details

Hits: 822
Calligraphic Arts Design Studio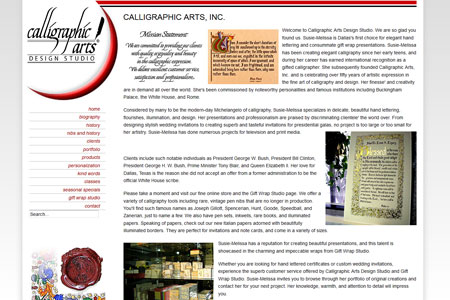 Welcome to Calligraphic Arts Design Studio. We are so glad you found us. Susie-Melissa is Dallas's first choice for elegant hand lettering and consummate gift wrap presentations. Susie-Melissa has been creating elegant calligraphy since her early teens, and during her career has earned international recognition as a gifted calligrapher. She subsequently founded Calligraphic Arts, Inc. and is celebrating over fifty years of artistic expression in the fine art of calligraphy and design. Her finesse' and creativity are in demand all over the world. She's been commissioned by noteworthy personalities and famous institutions including Buckingham Palace, the White House, and Rome.
Considered by many to be the modern-day Michelangelo of calligraphy, Susie-Melissa specializes in delicate, beautiful hand lettering, flourishes, illumination, and design. Her presentations and professionalism are praised by discriminating clientele' the world over. From designing stylish wedding invitations to creating superb and tasteful invitations for presidential galas, no project is too large or too small for her artistry. Susie-Melissa has done numerous projects for television and print media.
Clients include such notable individuals as President George W. Bush, President Bill Clinton, President George H. W. Bush, Prime Minister Tony Blair, and Queen Elizabeth II. Her love for Dallas, Texas is the reason she did not accept an offer from a former administration to be the official White House scribe.
iComEx launched the latest version of the Calligraphic Arts Design Studio. Susie Melissa and her staff have been part of the family since 2006 and still continue to create beautiful art for the entire world. Thank you Susie Melissa, for all you do for so many!
Details

Hits: 816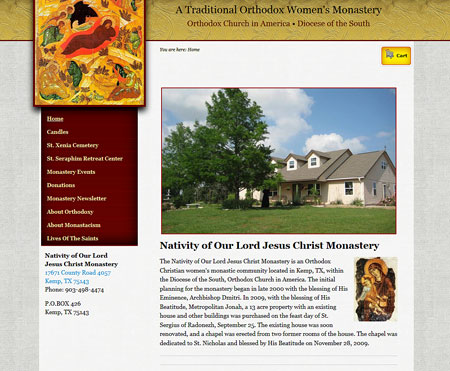 The Nativity of Our Lord Jesus Christ Monastery is an Orthodox Christian women's monastic community located in Kemp, TX, within the Diocese of the South, Orthodox Church in America. The initial planning for the monastery began in late 2000 with the blessing of His Eminence, Archbishop Dmitri. In 2009, with the blessing of His Beatitude, Metropolitan Jonah, a 13 acre property with an existing house and other buildings was purchased on the feast day of St. Sergius of Radonezh, September 25. The existing house was soon renovated, and a chapel was erected from two former rooms of the house. The chapel was dedicated to St. Nicholas and blessed by His Beatitude on November 28, 2009.
Special Monastery Invitation
One Year Memorial for + Schema Nun Elizabeth
The sisters of Nativity Monastery invite you to join them for the one year memorial for departed + Schema Nun Elizabeth on Tuesday, October 14, 2014. The Divine Liturgy will begin at 9:30am, followed by a Pannikhida in the Blessed Xenia Cemetery. A luncheon also will be served afterwards in the St. Seraphim of Sarov Retreat Center.
You may RSVP by calling the monastery at 903-498-4474 or by sending an email to This email address is being protected from spambots. You need JavaScript enabled to view it.
+ Schema Nun Elizabeth fell asleep in the Lord on October 14, 2013. May her memory be eternal!
Welcome Dear Sisters to the family here at iComEx. A place of retreats, peace, education events and love is always welcome to the Texas community around Dallas. Thank you for your prayers for us, and for all our clients.
Details

Hits: 805
Go For The WOW Factor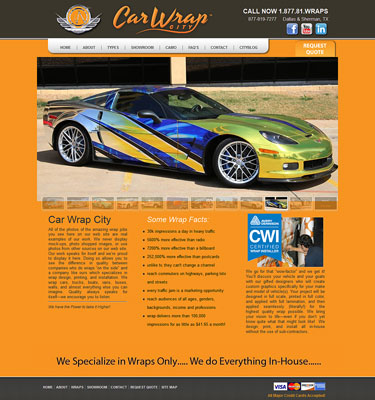 Car Wrap City specializes in state of the art technology in the materials and installation for your all your custom vehicle wraps. All of the photos of the amazing wrap jobs you see here on our web site are real examples of our work. We never display mock-ups, photo shopped images, or use photos from other sources on our web site.
Our work speaks for itself and we're proud to display it here. Doing so allows you to see the difference in quality between companies who do wraps "on the side" and a company like ours which specializes in wrap design, printing, and installation. We wrap cars, trucks, boats, vans, buses, walls, and almost everything else you can imagine. Quality always speaks for itself—we encourage you to listen.
If You Can Dream It We Can Wrap It!
Car Wraps
Truck Wraps
Boat Wraps
Van Wraps
Trailer Wraps
Fleet Wraps
Architectural Wraps
Unique Wraps
Camouflage Wraps
Golf Cart Wraps
Full Wraps
Partial Wraps
Large Format Graphics
Window Display Graphics
Theater Background Graphics
And More!
We go for that "wow-factor" and we get it! You'll discuss your vehicle and your goals with our gifted designers who will create custom graphics specifically for your make and model of vehicle(s). Your project will be designed in full scale, printed in full color, and applied with full lamination, and then applied seamlessly (literally!) for the highest quality wrap possible. We bring your vision to life—even if you don't yet know quite what that might look like! We design, print, and install all in-house without the use of sub-contractors.
If it has wheels, floats, or flies we can wrap it: Cars, trucks, vans, buses, motorcycles, trailers, golf carts, ATV's, boats, light aircraft, and more.
We're able to wrap anything that will stand still long enough! We don't need a flat surface to accomplish a fantastic result that will last. In fact, we're skilled at achieving impressive results on the most challenging of surfaces…if you can dream it, we can wrap it!
iComEx welcomes Car Wrap City to the family as we launch their new website today. Thank you so much for the vote of confidence in choosing us for your new website and we look forward to a wonderful business relationship in the coming years.