Details

Hits: 851
US Immigration Law Specialists
Holt James Law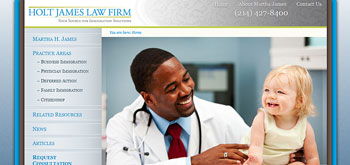 United States immigration law is constantly changing. Filing for a visa, permanent residence, or citizenship without knowing the intricacies of the law may adversely affect your case, sometimes permanently. It takes a dedicated attorney to keep up with the ever-changing laws, regulations, and policies that dictate how a case may be decided. Don't step into the immigration minefield without an attorney that practices immigration exclusively. Contact the Holt James Law Firm.
Martha H. James works with companies and individuals to obtain immigration benefits. She has helped hundreds of people obtain H-1B, L1, B1 and F1 visas. Additionally, she works very closely with foreign physicians to obtain J1 waivers through the Conrad 30 programs, Appalachian Regional Commission, Delta Regional Authority and Hardship Waivers. She has obtained labor certifications and national interest waivers for those seeking permanent residence and naturalization for clients wishing to establish permanent ties with the United States.
Welcome to the iComEx family Holt James Law. We look forward to the future and doing business with your company. Congratulations on your Success!
Details

Hits: 835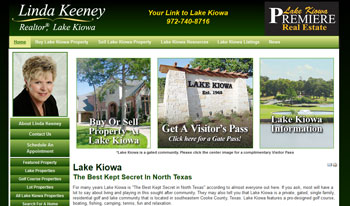 For many years Lake Kiowa is "The Best Kept Secret in North Texas" according to almost everyone out here. If you ask, most will have a lot to say about living and playing in this sought after community. They may also tell you that Lake Kiowa is a private, gated, single family, residential golf and lake community that is located in southeastern Cooke County, Texas. Lake Kiowa features a pro-designed golf course, boating, fishing, camping, tennis, fun and relaxation.
This beautiful paradise is only 10 miles Southeast of Gainesville Texas and just one hour North of the Dallas - Ft. Worth Metroplex. So, why don't you take a drive out here to Lake Kiowa, and see what this "Best Kept Secret" is really all about? If you'll contact me, I'd be very happy to arrange for you to see our community, and a few of the lovely homes or lots that I currently have listed. Look below, and let me know right now how I can help you find the home of your dreams.
Take a tour of Lake Kiowa and you'll see why D Magazine called it "South Florida dropped in North Texas"
iComEx completed the 2nd revision of this new Linda Keeney website. As approved NTREIS vendors, this site now promotes the regular MLS listings for Homes for Sale, Commercial Properties, Multi-Family Homes, Land & Lots, and Properties for Lease as well as a featured Lake Kiowa listings only locations. We appreciate you Linda Keeney, and wish you the best success in the coming years at Lake Kiowa Premier Real Estate.
Details

Hits: 883
Stop By Our New Boutique!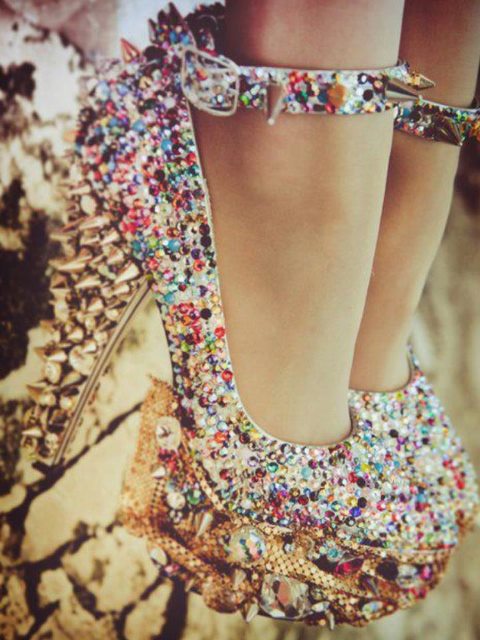 Welcome To Sassy Sheek! Just so you know the Boutique is going to be open Sundays December 9th, 16th and 23rd from 1-6 for Christmas shopping. As well as Tuesday - Saturday from 10-6. If you need to shop at a time outside of our regular business hours let us know and we will meet you by appointment!
Grande Opening!
Saturday, December 8 From 10am - 6pm
Come and see all of the Sassy Sheek ladies' clothes, jewelry, accessories, purses & shoes. Peruse the great items for all ages, as well as a great selection of beautiful home decor.
We will have more photos to share of the Ribbon Cutting with the Sherman Chamber of Commerce shortly. Till then, we invite you to stop by, and meet our stylists and do some shopping for Christmas. We have beautiful special things you must have! Call us @ 903-814-5039
Be sure to visit our Facebook page. We have lots more photos there with tantalizing items we know you have never seen before... The link is at the top right of this page.
---
A drawing will be held for a $100 store credit, as well as two $25 gift certificates towards hair services from hair stylists (Misty Lleverino & Katrina Narro).
Details

Hits: 954
Check it out right now with your SmartPhone.
You can also save as a bookmark on your home screen too! From your phone, access Atlas Plumbing and you will be redirected to the new mobile website automatically. Very exciting for those that need plumbing services on the run! Although we are still tweaking, we appreciate any feedback you have.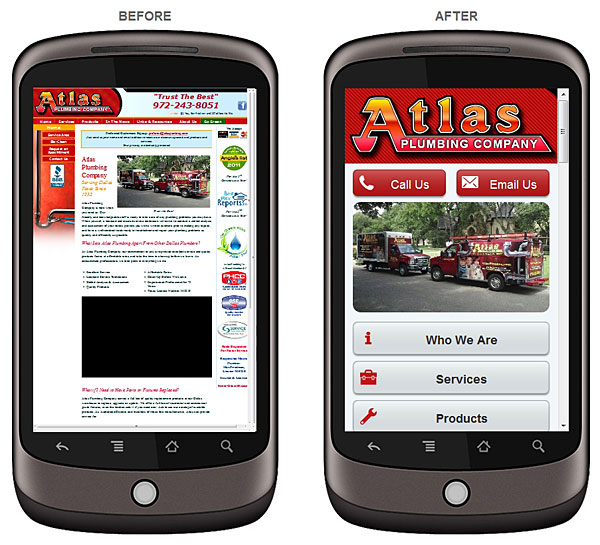 Why Should You Call Atlas?
Many times people try to save money by not hiring a professional plumber to perform a necessary repair. Often times that work is not done correctly. The cost of the original repair, plus the cost of a second repair, and any repair or replacement caused by the failure of an improper repair can skyrocket. Your time is valuable to you, and the best advice we can give you is let a professional plumber do it right the first time.
For over 75 years Atlas Plumbing Company has protected the health and well-being of our friends and neighbors in the Dallas service area. Atlas Plumbing Company is here to serve you.
Do You Want A Mobile Website For Your Business? Call Us Today at 972-712-2100.
Your Favorite Mobile Website Company in Dallas, McKinney, Sherman, and Denison.
Details

Hits: 893
Welcome To Professional Cleaning Services At Their Best
IComEx launches the new Texoma Cleaning Service website. The Cleaning Service located right in the heart of the Texoma region in DenisonTexas, is a family owned, quality driven, professional cleaning service for your home or commercial office. We are registered, bonded and insured for your safety and ours. The Cleaning Service has been in business since 1998 and has built a fine reputation for quality work, unmatched reliability, consistent quality, and exceptional customer service! Our primary goals are making sure that you, as our preferred client, will have peace of mind about us keeping your business or home in perfect order.
The Cleaning Service provides professional turnkey commercial janitorial and residential cleaning services. Located in Denison Texas, we service the Texoma region and surrounding cities of North Texas and Southern Oklahoma. For over 10 years, The Cleaning Service has delivered the North Texas and Southern Oklahoma communities with customized janitorial and residential cleaning services which meet the highest standards for homes and busineses in Grayson, Cooke and Fannin counties. Licensed, bonded and insured, our versatile staff here at The Cleaning Service will make sure that you have peace of mind and trust that our professional staff is well trained and here to meet and maintain all your commercial & residential cleaning needs. We invite you to call us right now at 903-814-8806 and find out more about how we can help you with all your cleaning needs.
Welcome to the iComEx Family Texoma Cleaning. We look forward to the future and doing business with your company. Congratulations on your Success!