Details

Hits: 2438
Dallas Tankless Water Heaters
Atlas Plumbing Offers The Best Choice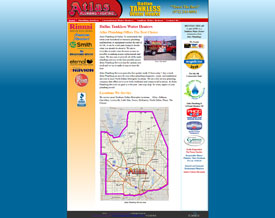 Dallas Tankless Water Heaters & Atlas Plumbing of Dallas Tx understands that when your household or business plumbing malfunctions or equipment reaches the end of its life, it can be a real pain trying to decide what you should do about it. We strive everyday to make your decision as easy as possible in making proper replacements and repair. We also aim to provide all of the right plumbing services at the best possible prices. Atlas Plumbing Services has the options you need and we try to make it easy to trust the best.
Atlas Plumbing Services provides fast quality work 24 hour a day 7 day a week. Atlas Plumbing can provide you with a plumbing diagnostic, repair, and installation services to most North Dallas Metroplex locations. We are a full service plumbing company that offers services to both residential and commercial locations. At Atlas Plumbing Services our goal is to be your 'one-stop shop' for every aspect of your plumbing needs!
Locations We Service
We service most Northern Dallas Metroplex locations… Allen, Addison, Carrollton, Lewisville, Little Elm, Frisco, McKinney, North Dallas, Plano, The Colony.
We welcome Dallas Tankless Water Heater.com to the iComEx family. Everyone here is looking forward to working with you and the members of your company in the coming years.
Details

Hits: 2429
Magnabrite® Light Gathering Magnifier
Bring your world into focus with the original Magnabrite!
Magnabrite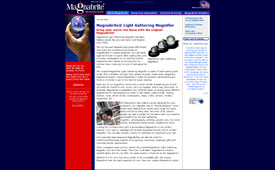 Light Gathering Magnifier has been helping people like you see clearer and brighter since 1950.
The pre-focused Magnabrite® glides effortlessly over most any surface and provides 4X magnification to relieve eyestrain. You will never again be forced to squint while reading fine print in books, newspapers or on medicine bottles. Magnabrite also resists scratching with it's concave base; reducing the risk of damaging the lens.
The original Magnabrite Light Gathering Magnifier is made of solid optical grade acrylic that intensifies the light that passes through. Unlike other magnifiers, Magnabrite doesn't require batteries or bulbs for precision performance and there is no frame to get in the way for easier viewing.
Each one of our magnifiers comes with a velvet double drawstring pouch that can easily be carried in your purse, carry on luggage, beach bag, back pack, or briefcase. Magnabrite is available in four different sizes, providing many different applications for use anytime you want to see clearly. Uses include: viewing stamps, coins, phone books, newspapers, maps, crafts, photos, models, magazines, etc.
Thank you Magnabrite for the vote of confidence in the creation of the newly redesigned web site which employs the latest shopping cart software and encription for your clients. We look forward to doing business with your company in the future.