Details

Hits: 761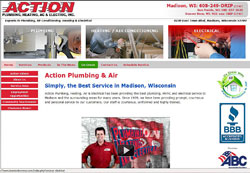 Action Plumbing, Heating, A/C & Electrical, Inc. - Simply the Best Service in Madison, Wisconsin. Action Plumbing, Heating, A/C & Electrical, Inc. has been providing the best plumbing, HVAC and electrical service to Madison and the surrounding areas for many years. Since 1989, we have been providing prompt, courteous and personal service to our customers. Our staff is courteous, uniformed and highly trained.
We specialize in plumbing, heating, cooling and electrical repairs and maintenance for both residential and commercial properties. Thinking of remodeling the kitchen or bathroom or even building a brand new home? We're here to help.
When you need some Action, give us a call!
We welcome Action to the iComEx family and look forward to many years working together.
Details

Hits: 741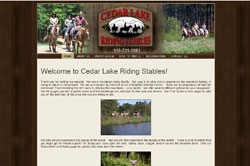 Cedar Lake Riding Stables is a horseback riding facility. Their goal is to allow you to experience the wonderful feeling of being in nature on horseback! They are surrounded by 240,000 acres of beautiful National Forest. There are an abundance of trails for everyone! From traveling the dirt roads to climbing the mountains -- you decide. They offer several different options for your enjoyment. They will supply you with a gentle horse and the knowledge you will need to feel safe and secure. Cedar Lake Riding Stables has a Trail Guide that is very eager to take you on the best tour of this area that you are willing to see.
Not only will you experience the beauty of the forest -- but you will also experience the beauty of the wildlife. There is a lot of wildlife that you might get to "sneak-a-peek" at! Keep your eyes open for deer, turkey, bear, cougar, and of course the beautiful birds. Visit our Reservation and Rates page for guided ride rates and information.
Call Diane today for reservations @ 918-721-1883.
Welcome Cedar Lake Riding Stables to the iComEx family. We look forward to working with you in the coming years. Enjoy Riding.
Details

Hits: 714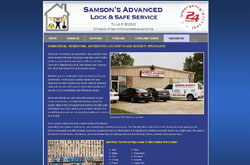 Samson's Advanced Lock & Safe cordially invites you to browse through our pages and take a look at the products and services we have to offer to see how Samson's Advanced Lock & Safe Service can help you with all of your locksmith and security needs.
Whether you are looking for high-security keys for your automobile, need access control repairs for your business or want to have your home locks re-keyed or replaced, we are a full-service locksmith provider and can do it all at competitive and affordable prices.
When they provide on-site locksmith services at your home or business, our fully-stocked vans have the proper state-of-the-art equipment and tools to take care of whatever you may need at your location. Unless it is something unusual, we can usually provide your service in one visit.
At our shop location we have a wide variety of hardware, specialty locks, keyless entry locks, personality keys and key accessories. Our friendly office staff and on-site shop technician welcome the chance to provide you with prompt, courteous service as well as information or brochures for whatever security needs you might have. We carry a full stock of commercial, residential, and automotive keys, including many hard-to-find key blanks, skeleton and tubular keys.
Welcome to Samson's Advanced Lock and Safe and the iComEx Family. It's great to have you on board and we look forward to working with you in the future.
Details

Hits: 721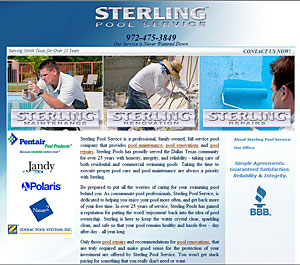 Sterling Pool Service is a professional, family-owned, full-service pool company that provides pool maintenance, pool renovations and pool repairs. Sterling Pools has proudly served the Dallas Texas community for over 25 years with honesty, integrity, and reliability - taking care of both residential and commercial swimming pools. Taking the time to execute proper pool care and pool maintenance are always a priority with Sterling.
Be prepared to put all the worries of caring for your swimming pool behind you. As consummate pool professionals, Sterling Pool Service, is dedicated to helping you enjoy your pool more often, and get back more of your free time. In over 25 years of service, Sterling Pools has gained a reputation for putting the word 'enjoyment' back into the idea of pool ownership. Sterling is here to keep the water crystal clear, sparkling clean, and safe so that your pool remains healthy and hassle-free - day after day - all year long.
Only those pool repairs and recommendations for pool renovations, that are truly required and make good sense for the protection of your investment are offered by Sterling Pool Service. You won't get stuck paying for something that you really don't need or want.
Your swimming pool is a major investment for relaxation, fun and fitness. Since cleanliness and water quality impact the enjoyment and health of every swimmer in your pool, not to mention the condition of the pool itself, why take chances with pool maintenance and pool care? Trust the professionals at Sterling Pool Service to take care of your pool for you.
Find out more about what Sterling Pools can do for you by selecting Pool Maintenance, Pool Renovation, or Pool Repairs. You can also call 972-475-3849 for more information or Request An Appointment now.
This new web site makes use of several the iComEx Content Management Systems behind the scenes: ICX Publish, ICX Resources, ICX Banners, ICX News, and the ICX Stats & Counters package. These are all part of the next generation version of the popular ICX Publish web site publishing suite.
Details

Hits: 701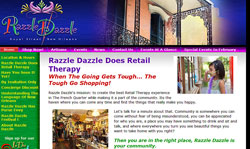 Razzle Dazzle - iComEx is pleased to announce the re-launch of the Razzle Dazzle website on the newly acquired RazzleDazzle.com domain name. After nearly a year of diligent negotiations ICOMEX was able to acquire the premium domain that was once held by the Kellogg's Company. The domain was acquired for an undisclosed amount.
This new web site makes use of several the iComEx Content Management Systems behind the scenes: ICX Publish, ICX Resources, ICX Banners, ICX Events, ICX Shop, and the ICX Stats & Counters package. These are all part of the next generation version of the popular ICX Publish web site publishing suite.
The site features extensive information about the Razzle Dazzle store, located at 524 Royal Street in the heart of the historic New Orleans French Quarter, as well as upcoming New Orleans events, profiles of artist and craftspeople who's products are carried in the store, and much more. The site will soon have an online e-commerce store slated for deployment in late summer of 2011.
Razzle Dazzle's mission: to create the best Retail Shopping Therapy experience in The French Quarter while making it a part of the community. Its the haven where you can come any time and find the gifts, home decor and jewelry that really make you happy.
Let's talk for a minute about that. Community is somewhere you can come without fear of being misunderstood, you can be appreciated for who you are, a place you may have something to drink and sit and talk, and where everywhere you turn you see beautiful things you want to take home with you right?