Details

Hits: 6092
The Annual Cattleman's Ball
Show Your Community Support!
Children's Advocacy Center of Grayson County invites you to support The Annual Cattleman's Ball this year. The mission of the Children's Advocacy Center of Grayson County is to provide a multi-disciplinary collaboration of services for the purpose of prevention, intervention, investigation, prosecution and treatment of child abuse. This collaboration is an effort to reduce the potential for additional trauma as a result of investigation and prosecution by promoting recovery or the child victim and non-offending family members, and facilitating the prosecution of those individuals who perpetuate crimes against children in Grayson County, TX.
Our Family Advocates work directly with the children and non-offending caregivers seen at our center to ensure they have the necessary resources to improve their lives. Follow-up contact with these families is a priority to ensure their needs are being met. By providing many many types of necessary services to these kids, we are looking for community support from you and your business here in North Texas. If you have more questions, would like to volunteer, or make a donation to Children's Advocacy Center of Grayson County please Click Here Now!
See the flyer for more information in the flyer for attendance to the Cattleman's Ball.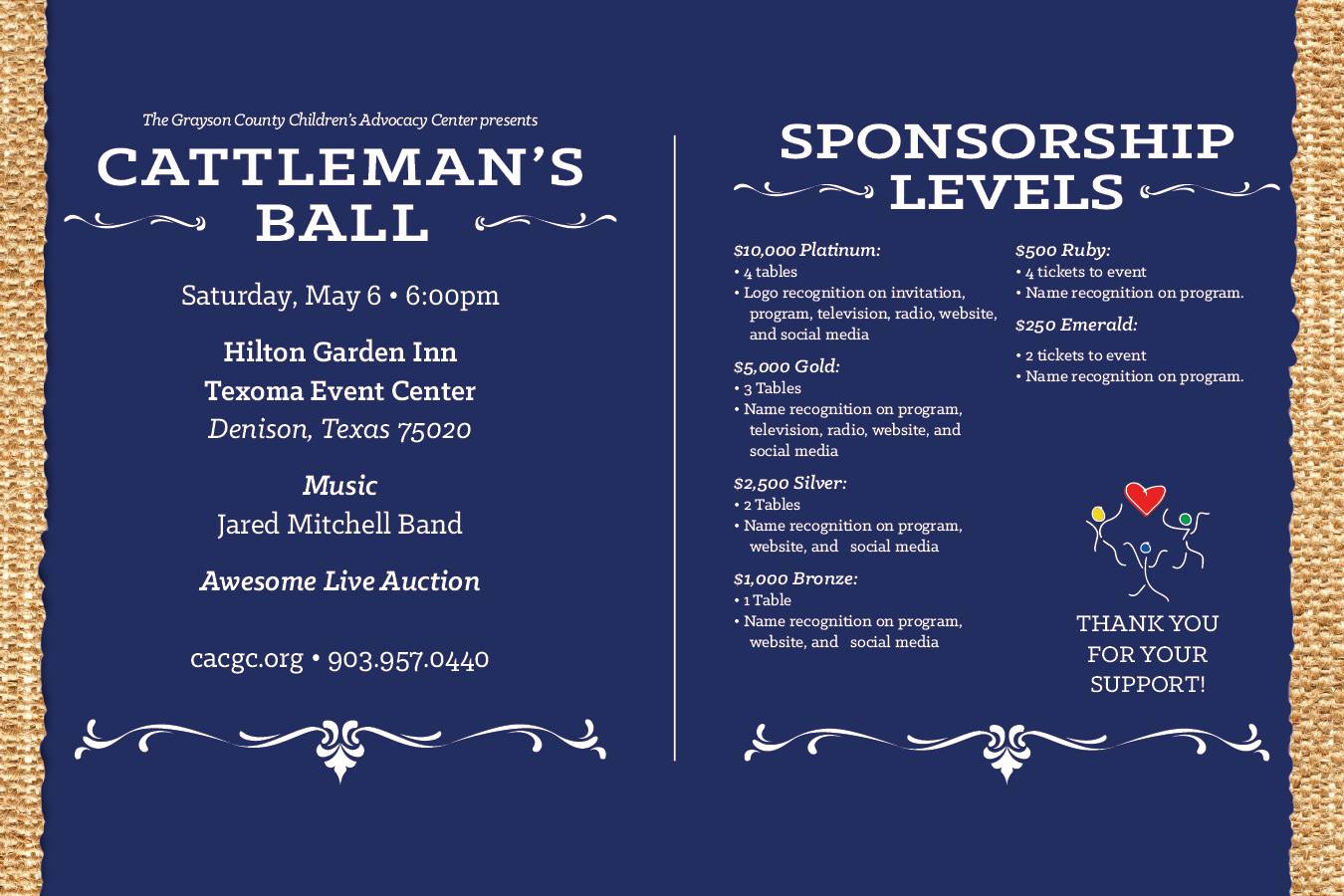 Details

Hits: 1858
Join Us At The Denton Arts & Jazz Festival
Looking for a special family activity to attend? Do you love Jazz? Do your Kids love to have fun? Then this event is for you. April 28, 29, & 30, 2017 The Denton Arts & Jazz Festival will be held for all you North Texas residents who are into Jazz and Art, and special Kids activities...For all Transportation questions be sure to see how to get here below. You may want to make it a party, or family and friends event of your own just for fun...just saying is all :>)

The Denton Arts and Jazz Festival for 2017 will be a celebration of the arts in a community known for embracing and nurturing music, dance, choral, drama and the visual arts. World Renown for it's graduates in the music field, The free event is produced by the Denton Festival Foundation, Inc. with the generous support of sponsors such as the Dallas/Fort Worth American Federation of Musicians Local 72-147 and the city of Denton. This annual event will be held the last full weekend in April at Denton's Quakertown Park, and this event features seven stages of continuous music, fine art, crafts, and food, games and information booths in a beautiful, outdoor setting. Fun for the family, friends and those who enjoy outdoor events, we invite you to join in on all the fun.
If you are not familiar with this prestigious festival and The Festival Foundation, it's a big deal and thousands of people come from around the USA to join all the fun. The Festival Foundation uses proceeds from booth rentals and concession sales to support the arts throughout the city of Denton, Texas. Arts facilities, service organizations, and preservation projects have all been the recipients of the proceeds from past events, in addition to public art for the enjoyment of all. This is a great time to find out more about the historical events our great State of Texas has to offer. Come see the best that Denton has to offer – the sights, sounds and flavors that make up the Denton Arts and Jazz Festival are perfect for all ages.
Unfortunately, due to the large crowds we ask that you leave your pets at home – SERVICE DOGS ONLY, PLEASE and NO COOLERS IN THE JAZZ AREA!
Denton Arts & Jass Festival 2017 Headliners Include:
Jack DeJohnette, Ravi Coltrane & Matt Garrison - (Friday, 9:00 pm – Jazz Stage) In a career that spans five decades and includes collaborations with some of the most iconic figures in modern jazz, NEA and Grammy winner JACK DEJOHNETTE has established an unchallenged reputation as one of the greatest drummers in the history of the genre. The list of his creative associations is lengthy and diverse: John Coltrane, Miles Davis, Omette Coleman, Bill Evans, Stan Getz, Keith Jarrett, Chet Baker, George Benson, Herbie Hancock, Dave Holland and many more.
He is one of the most consistently inventive jazz percussionists in history, having emerged in the 1960's playing with John Coltrane, Charles Lloyd, Thelonius Monk, Keith Jarrett and many others. Considered one of the most influential jazz drummers of the 20th Century, DeJohnette incorporates elements of jazz, free jazz, world music and R & B, making him one of the most highly regarded and in-demand drummers. His style has been called unique; one critic wrote that he is not merely a drummer but a "percussionist, colourist and epigrammatic commentator mediating the shifting ensemble densities" and that "his drumming is always a part of the music's internal construction". Modern Drummer magazine, in a 2004 interview, called DeJohnette's drumming "beyond technique".
The list of his creative associations is lengthy and diverse: John Coltrane, Miles Davis, Omette Coleman, Bill Evans, Stan Getz, Keith Jarrett, Chet Baker, George Benson, Herbie Hancock, Dave Holland and many more. Born in Chicago to a family where music appreciation was a high priority, he first studied piano and later added drums to his repertoire when joining his high school concert band. "As a child, I listened to all kinds of music and I never put them into categories:, he recalls. "I had formal lessons on piano and listened to opera, country and western, rhythm and blues, swing, jazz, whatever. To me, it was all music and all great. I've kept that integrated feeling about music, all types of music, and just carried it with me. I've maintained that belief and feeling in spite of the ongoing trend to try and compartmentalize people and music."
The son of saxophonists John Coltrane and jazz pianist Alice Coltrane, RAVI COLTRANE is a tenor and soprano saxophonist, band leader and composer. He has fronted a variety of jazz line-ups, recorded critically-hailed albums as a leader and produced recordings by other artists, including his mother, and founded an independent record label.
Ben Ratliff of the New York Times wrote this about Ravi's 2005 album In Flux: "Mr. Coltrane avoids tired song structures and doesn't want to bore you. He's fascinated on one hand by miniatures and on the other by the idea of longer songs that sound like collective improvisation from start to finish. It's a record you can point to and say: This is what jazz sounds like now in New York."
The godson of Jack DeJohnette, MATTHEW GARRISON has been called "an electric bass virtuoso" and is considered one of the most technically gifted jazz musicians of his generation. The son of bassist Jimmy Garrison, he began to play professionally in 1994 and has performed with the likes of Joe Zawinul, Herbie Hancock, Tito Puente, John McLaughlin and toured with Whitney Houston on her Nothing But Love tour in 2010.
In 2012 Matthew, along with his business partner Fortuna Sung, opened ShapeShifter Lab which is quickly becoming one of the most important and influential music venues in New York. The Brooklyn based venue features performances by the most important artists on the music scene today and has been voted by Time Out New York (2013) as one of the best 10 venues in New York and by Downbeat (2014) as one of the best jazz venues in the world.

Aaron Neville - (Saturday, 9:00 pm – Jazz Stage) Although AARON NEVILLE is often compared to singer Sam Cooke in terms of sheer vocal refinement, he has a voice and style uniquely his own. He is well known as part of the New Orleans sound of The Neville Brothers. Musically, of course, you know Aaron as a lover, not a fighter. The strange trajectory of his recording career began in 1960 when he recorded a single with producer/writer Allen Toussaint.
In the late 1970's The Neville Brothers - Cyril, Charles, Art and Aaron - came together as a backing unit for their uncle's Wild Tchoupitoulas and finally decided to strike out as a unit on their own. The sibling group found success primarily on the touring circuit but also garnering attention for albums like their 1989 debut for A&M Records, Yellow Moon, one of the most critically acclaimed albums of that era, for reasons not the least of which was the spooky richness of the Aaron-penned title track. And when it rained, in 1989, it poured. That was a very good year for his sole career, as he had his first real hit in 23 years with Don't Know Much, a No. 2 pop smash that was one of several duets with Neville that Linda Ronstadt included on her album Cry Like a Rainstorm, Howl Like The Wind. His work with Ronstadt netted him 2 Grammy Awards in 1989 and 1990.
For the quarter-century that followed, Neville deftly balanced the needs of dual group and solo careers. But eventually the demands of the road got to him and in 2015 The Neville Brothers held a "Nevilles Forever" all-star jam and goodbye blast in New Orleans during Jazz Fest. "There comes a time when you look at life and think about your mortality and say, 'How much have I got left?"', he said. "I wanted a chance to do some of the stuff that I'd always wanted to do, and I couldn't do all of it."
The affect of Aaron Neville's voice on people is incalculable. "I've had people tell me different things, like this lady who told me they had a 5 year old little boy who was autistic, and they had to keep him in a padded room - the only thing that would calm him down is when they put a headset on him with my voice. It gave me chills when she said that", says Neville. "All I could say is, it's the God in me touching the God in him. I can't take responsibility. I'm just a singer, you know, and I'm trying to make the tenderest notes that could heal, in some way. I used to say that I wish I could make a note so pure that it could cure cancer."
Brave Combo – (Sunday, 7:00 pm – Jazz Stage) Our own for many years, if you try to describe BRAVE COMBO's music requires a pretty extensive vocabulary- at least when it comes to musical styles. For the past three decades the Denton-based quintet has perfected a world mix music that includes salsa, meringue, rock, cumbia, conjunto, polka, zydeco, classical, cha-cha, the blues and more. They are America's premier dance band and a rollicking, rocking, rhythmic global journey­offering what one critic recently wrote: "Even if you come for the party, you'll leave with something of a musical education."
The band's catalog of recordings includes everything from Japanese pop to Latin American dance tunes, orchestral classics to rock and roll at its finest. From festivals and fairs od all varieties across the globe, rock clubs big and small, colleges, roadhouses, dances, cultural centers (including the annual Midsummer Night's Swing at Lincoln Center in New York City), Brave Combo has charmed countless listeners and won avid devotees. The band has won two Grammy Awards and has been nominated for their work a total of seven times.
The band is comprised of founder Carl Finch who was recently inducted into the Polka Hall of Fame, Finch sings vocals and plays guitar, keyboard and accordion. He is joined by Danny O'Brien on trumpet, Alan Emert of drums, Little Jack Melody on bass guitar and Robert Hokamp on guitar.
Fine Arts & Crafts - Of of the most important aspect of the Denton Arts and Jazz Festival is the juried art show. 10' X 10' Booth spaces are available both indoors and out, with artists and craftsmen representing Texas, New Mexico, Louisiana, Oklahoma, Colorado, Iowa, Maine, Arkansas, Oregon and beyond. Fine art is housed inside the Denton Civic Center while Fine Art and Crafts are located immediately outside the building. Arts and Crafts are located in the north end of the park. Here you will find clothing, metal and wood crafts, jewelry, paintings, candles, dolls and accessories and more.
For 2017 there will be 34 booth spaces available inside the Civic Center with approximately 60 located just outside the building. The north park houses approximately 75 arts and crafts booth spaces.
2017 Children's Art Area - If you have kids, or are keeping grandchildren this weekend, be all means make this event. The Denton Arts and Jazz Festival is dedicated to a mission of introducing children to the arts. The Children's Art Tent is located in the north park and children have the opportunity to experience art in many forms. The tent features 15 different stations with volunteers instructing the children in such creative outlets as Clay and Flower Sculpture, Tan gram Art, Stamp Art, Collage, Drawing and more. This is a hands-on opportunity for young people and their parents to participate.
Next to the Children's Art Tent is the Children's Wood Tent, with volunteers assisting in the selection of wood and the creation of anything the imagination can hold. And, rounding out the Children's Art Area is the Percussion Petting Zoo with Steve Gryb, the Pied Piper of Percussion. This is an intriguing and hands-on interactive exhibit featuring percussion instruments from around the world for everyone to play with and explore the sounds!
2017 Has A Activity, Game, and Information Booth Area: The games, activities and information booths are always popular with attendees. Face painting, rock climbing, inflatables and a playground are all available for the young visitors. In addition, many nonprofit organizations use the opportunity to raise funds for their organization while sharing information about the services that they provide.
Food Food & More Food - Are you hungry yet? You will find 6 food courts at the Denton Arts & Jazz Festival. German sausage, hot dogs, cotton candy, funnel cakes, corn dogs, fresh squeezed lemonade, roasted corn, ice cream, egg rolls, shish kabobs, burgers, fried onion and potato dishes, salads, baked goods, turkey legs, BBQ, popcorn, Asian, Cajun, Mexican, Greek & Italian fare and much more will certainly satisfy your festival appetite. Several different beverages such as bottled water, beer, wine, soft drinks, coffees and a variety of ice drinks will also be available.
See you there!
37th Annual Denton Arts & Jazz Festival
When:
April 28, 2017, Friday, 5pm-11pm
April 29, 2017, Saturday, 10am-11pm
April 30, 2017, Sunday, 11am-9pm
Denton's Quakertown Park and Facilities
321 East McKinney (Corner of McKinney and Bell)
Denton, Texas 76201
Facility Description and Capacity:
6 Outdoor Stages (5,000 seating capacity each)
1 Indoor Stage (150-200 seating capacity)
Roving Musicians (50-100 standing)
Park & facilities are Accessible to Disabled
Exhibit Space Availability and Description:
Park facilities: 17,000 square feet (Civic Center and Senior Center)
Park grounds: 20 acres
Booth space: 10 x 10 square feet (indoor/outdoor space)
Transportation:
See the links below for more information.
PLANES
TRAINS
Amtrak - We will have a Denton Arts & Jazz Festival welcome team at Union Station in Dallas to facilitate the transition from Amtrak to DART and and also accompany you on the A-train ride all the way to Denton. The Amtrak also has a bar car and dining cars to make your trip more fun!
Dallas Area Rapid Transit (DART) and the DCTA - A-train -


From Dallas:


Take DART's Green Line to the Trinity Mills station in Carrollton
At the Trinity Mills station transfer to the A-train* with a simple cross-platform transfer
Take the A-train* to the Downtown Denton Transit Center located near the heart of Denton
At the Downtown Denton Transit Center transfer to bus route6, 7, 8 or 9** to get to either the Campus Theater or the Square Donut Theater


*A-train does not run on Sundays
** Route 9 only travels on the weekdays

From Ft. Worth:


Take the TRE to Victory Station in Dallas
At Victory Station take DART's Green Line headed to Carrollton
Get off the Green Line train at the Trinity Mills station
At the Trinity Mills station transfer to the A-train* with a simple cross-platform transfer
Take the A-train* to the Downtown Denton Transit Center located near the heart of Denton
At the Downtown Denton Transit Center transfer to bus route 6, 7, 8 or 9** to get to either the Campus Theater or the Square Donut Theater


*A-train does not run on Sundays
** Route 9 only travels on the weekdays
AUTOMOBILES - enter your zip code, your city name or your full or partial address here
PEDICABS
http://dentonpedicab.com/ - Pedicabs are available throughout downtown Denton.
Details

Hits: 936
Successful Marketing Equals Customers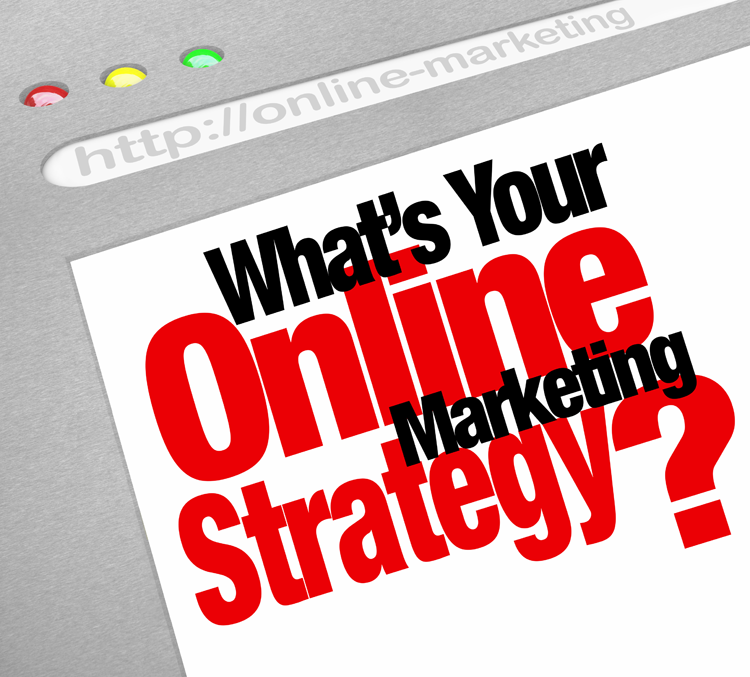 Do you have a great online marketing plan for your business? How many years does it span? What is the destination goal you hope to reach? These are the top questions all business endeavors need to know before you begin any marketing. If you don't know how to make a great marketing plan or it's been a while since you have really used one and are in need of some additional revenue, and iComEx has a plan for you.
Get Started Right Now!
"Be Prepared" is the motto you need to learn. Response to any marketing means several things. More customers, higher profits, and more overall growth for the business at large; and remember you must be ready to accept the challenges you face with even those results, but that's a topic for later discussions. iComEx believes that you will not run your business successfully without being prepared.
The Devil is in the details they say about so many things, but details in a great marketing plan must be planned out to reach any goal you may want to set. And knowing your business, knowing who your customer is, and keeping them supplied with what they need means keeping on your toes at all times. Bad marketing could mean failure if your not careful. That's where iComEx comes in.
For almost 20 years, iComEx has been growing. In experience, skill sets, and practical applications of sound business principals. Providing these tactics for your needs means we can assist you with all aspects of your current business on many fronts. Let's continue our discussion on generating revenue with effective marketing.
The demographics of your company have a profile - This demographic targets particular customers, as well as specific products and services. Get any one or all of these facts wrong spells disaster over time. Simple effective marketing campaigns must be defined, have a strategy, reach the market position you seek, and be over a specific period of time. They must explain and cater to exactly what makes you achieve your stated goals.
Every business should have a plan, but not every business needs the same online marketing plan. Generally, you need one tailored to you, with specifics for your needs. The marketing plan should be at least 1 to 5 years, and must act as a blueprint for all your marketing efforts. High level strategy, tactics, goals, business leave behinds, web sites, and advertising are all part of the overall plans you should make. Making the right selection for you the best marketing that will achieve the best results is a critical issue for every business no matter the size.
What are the benefits of a great online marketing plan?
Keep the bigger picture in mind. A great online marketing plan will allow your company to keep this as a priority.
Stay aware of where all efforts are going to keep and receive new customers. Be aware of spikes in sales, and peaks in seasonal products over the length of the marketing plan.
Stay focused on stability and consistent efforts that result in measured success. Don't be too quick to try the trendy stuff that may not work.
Well defined strategy exists as long as it is successful. If changes are coming, recognize them, define how to meet the challenges and reorganize your marketing efforts to meet those new needs.
Prefer logical analysis in your approach to all your marketing efforts. The final plan approved will fit and will carry you into the future with ease.
What aspect of your business is undetermined at this time? If a simple effective marketing plan has been left out, and sales are floundering iComEx can help you begin to drive new traffic to your website, assist in defining your markets, help you set realistic goals, and then formulate a competitive strategy plan to achieve results for your company website. The successful marketing plan that will introduce your company to your target market, account for external influences, keep on budget, determine achievable goals and objectives, and have the right tactics in place at the right time to better your company position among competitors.
Making you and your company a priority means we are doing our job. iComEx can put the proper perspective in place to enhance an existing marketing plan, enable new markets, determine changes, and successfully enable you to drive traffic and new customers to grow your business, meeting any goals.
Call us today! 972-712-2100.
Details

Hits: 984
Guidelines For Branding Your Business

By definition, brand strategy is a long-term plan for the development of a successful brand in order to achieve specific goals. A well-defined and executed brand strategy affects all aspects of a business and is directly connected to consumer needs, emotions, and competitive environments. Based on this definition, would you say that you are brand aware? If not, then let's consider some information that will help you learn more about developing a clear brand for your small business; and also let you know you can do this on a budget. iComEx is here to assist you in learning about what a brand is, defining what it is for your business, and then communicating who you are to your potential clients. For 20 years, that has been our focus: You, and helping you be successful with what you do and who your are. Let's get started!
Branding On A Budget:
Know who you are trying to reach is a critical first step. It means that you must know their needs, goals, and their behavior. Your potential customers will determine how you convey your product or service. If you get that, then understanding what kind of media those customers are being motivated by and where they actually live online. Having this type of knowledge will help you develop a compelling effective brand that will reach the right people. Ask yourself the question about who is the person I am trying to reach; how you want to be perceived by them, and maintain contact points with them numerous times per year.
Try to begin this process and execute a better value proposition to potential new clients that exhibit the qualities of those you are trying to reach. Finding common ground means they can relate and will want more branding that benefits both you and their business goals. Remember branding crosses all media. Websites, marketing materials, social media, videos, podcasts, and more. Everytime you inform, you must brand who you are. Doing so keeps people aware of who you are.
Make sure that you develop an identity and a voice for your brand. If you identify your buyer and their characteristics, the brand begins to take shape in the form of a brand identity. Those things that identify to them what your brand is, the voice it has and the tone used to communicate that voice in all communications to the public at large.
If you invite a stronger brand voice, it can become a priority that will increase your online presence and drive traffic to your website.
Provide a consistent social media presence to all your potential clients. That means you know who these potential clients are, what to say to them, how to say it, and now finding where are they is next. Consistent voice does tell your audience who you are. It also tells where they spend their time and most especially on social media.
Once you realize that someone spends more time on Facebook than on Twitter, then targeting them where they already are is the quickest way to approach them. From there you can move forward. If you also understand that other profiles do use five major social media platforms -- Facebook, Pinterest, Instagram, LinkedIn, and Twitter; then by paying attention to all that information you know you can dedicate and delegate the most information to the highest percentage of activity.
Now, once you do establish that presence, maintain it. That is the critical key for having a real presence. Positive impact means keeping current that branding voice and that you are having a maximum impact on their perception of who you are.
Updating your website on a regular basis means planning and scheduling social media posts like you would with any other marketing calendar are required. If you already have a marketing plan in place, reinforce that with your social media. Think of seasonality of the industry, and relevance to your audience all year long keeps them coming back for more.
Do you blog? A blog can be a person, a reporter for the industry you share, or simply a concept you maintain. Attraction is great, but methodology and frequency turn that potential client into a regular visitor quite easily.
It could be safe to say that regular blogging might be the most fundamental step of inbound marketing. This option will definitely reach qualified customers, like your personas, by creating the informative content that matches the information they're searching for. Keeping it relevant to this audience -- when you're writing, and be sure to optimize that content for searches can measure the success in analysis of who is actually visiting your website or calling to find out more.
Another fact you may need to understand about a blog is that it is reported as the third most trusted source of information; and it can also serve as material to populate your social media networks. Branding is your friend. Remember that this too can be tied to your marketing plan outline and keeping it frequent and fresh with content will help over time. Be sure the look and feel is consistent with your overall brand.
Customer service has become a lost art; and needs to become a priority again. Built in customer service appeal is a basic approach of doing business and establishing core values. Why, it is the cornerstone of any brand. Hands down, if your brand represents quality customer service, you will over the long term save money on marketing and advertising. Word of mouth among an industry of professionals is the epitome of what is termed earned media. An intangible asset that can't be purchased, and when people recognize you as and experience they must have. Go for the Gold! Do your best and treat your clients with respect goes a long way toward their success, and reminds them you and your brand have helped them be successful.
At that point, your brand is to your potential client a value-add proposition across the board. Values, service, and culture all influence perception..
If you are just starting out, your brand will develop over time; but time isn't your desire at that stage. If you can co-brand with someone who has a fully developed brand awareness, then you can by association jump start attention to a much broader audience. Partnership needs to make sense in the mind of your audience, so be sure to take clear advantage of successful co branding partners.
Alliance with your partners means providing your potential clients with trust, confidence, and something they can akin to as a win win relationship by them associating with both brands.
Branding is many things to many people. What may seem impossible to achieve on a budget may not be as difficult as you think. Take a step, then another, develop relationships and build momentum that will push your brand into the forefront of your industry and reaching the clients you need to attract is your goal. Remember to have fun in this process, and as you grow, add funds where they will do the most good. Strategy and simple logic with creativity is a big part of the success of any brand.
Get Busy And Get Branded Today! Call iComEx and let's sit down and develop a long term goal with the right strategies and logical ideas for your business. Help us understand who you want as that ideal client, and then we can get started on branding your company. Success means it's getting the job done for you and for your client as well.
Call Us Today: 972-712-2100
Details

Hits: 929
A Typo Took Down The Internet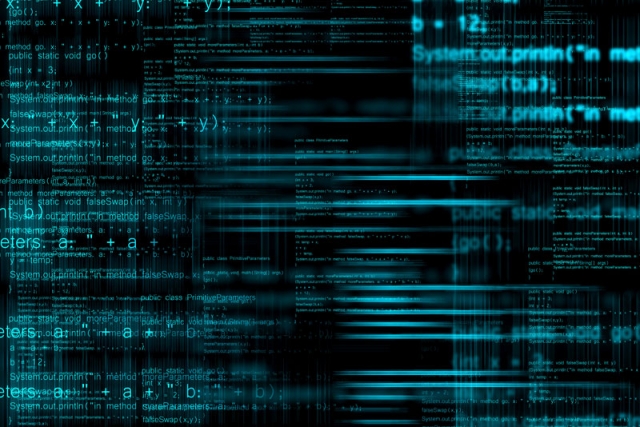 SAN FRANCISCO — The major outage that hit tens of thousands of websites using Amazon's AWS cloud computing service on Tuesday has a resolve. Who knew that a simple typo of one incorrectly entered command could take down Amazon Cloud Services for 4 hours.
The four-hour outage at Amazon Web Services' S3 system, a giant provider of backend services for close to 150,000 websites, caused disruptions, slowdowns and failure-to-load errors across the United States.
Massive Amazon cloud service outage disrupts sites. Amazon's Simple Storage Service (S3) lets companies use the cloud to store files, photos, video and other information they serve up on their website. It contains literally trillions of these items, known as "objects" to programmers. During this outage, noone was able to access websites, photos, logos, lists, data and various other systems. Many also had broken links and were only partially functional.
Today, Amazon published a public letter saying what happened:
"On Tuesday morning, an Amazon team was investigating a problem that was slowing down the S3billing system.
At 9:37 am Pacific time, one of the team members executed a command that was meant to take a few of the S3 servers offline.
"Unfortunately," Amazon said in its posting, one part of that command was entered incorrectly — i.e. it had a typo.
That mistake caused a larger number of servers to be taken offline than they'd wanted. Two of those servers ran some important systems for the whole East Coast region, such as the ones that let all those trillions of files be placed into customers' websites.
To get it back, both systems required a full restart, which takes a lot longer than simply rebooting your laptop.
All of this wasn't just affecting Amazon's S3 customers, it was also hitting other Amazon cloud customers as well — because it turns out those systems use S3, too.
While Amazon says it designed its system to work even if big parts failed, it also acknowledged that it hadn't actually done a full restart on the main subsystems that went offline "for many years."
During that time, the S3 system had gotten a whole lot bigger, so restarting it, and doing all the safety checks to make sure its files hadn't gotten corrupted in the process, took much longer than expected.
It wasn't until 1:54 pm Pacific time, four hours and 17 minutes after the mistyped command was first entered, that the entire system was back up and running.
To make sure the problem doesn't happen again, Amazon has rewritten its software tools so its engineers can't make the same mistake, and it's doing safety checks elsewhere in the system.
Amazon apologized to its customers for the event, saying it "will do everything we can to learn from this event and use it to improve our availability even further."
Thanks for checking in on iComEx to find out the latest news that may be of interest to you as a business owner. We appreciate your business, and remember if you have questions please feel free to contact any of our staff for any additional questions you may have.
To learn how iComEx can help your your business grow, please call 972-712-2100, or ask us to provide a quote. We proudly serve Dallas, Frisco, Plano, McKinney, Allen, Sherman, and Denison for all your web needs.